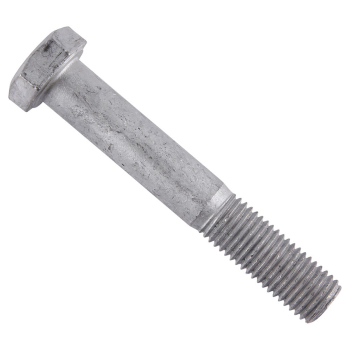 Hex head Bolts are not Fully threaded from under the head, they have a plain shank and are threaded at the end. These Bolts are grade 8.8 also referred to as high tensile, they have a Galvanised finish to give protection against corrosion.


Benefits of using Galvanised Bolts:

Long Life - Galvanised bolts protect against corrosion and prolong life of steel, greatly lowering the enviromental and economic cost.

Recyclable - Wheather for re-galvanising, removal or reuse, galvanised steel is easily recycled. It can also be recycled with steel scrap.

Sacificial Protection - At the point where the galvanised steel suffers damage, a galvanic cell is formed. The zinc around the point of damage corrodes. Corrosion products precipitate on the steel surface and protect it. If this happens to a zinc plated product the steel could rust and lead to an eventual breakdown of the product.

Full Protection - Every part of a galvanised fastener is protected, even recesses, sharp corners and inaccessible areas. No other type of coating applied to a structure or fabrication after completion provides the same level of protection.

Cost Efficient - The initial investment of using galvanised steel fasteners fo long-term protection in construction can provide cost benefits for decades.
No detailed specifications are available for this product.
There are no downloads for this product.