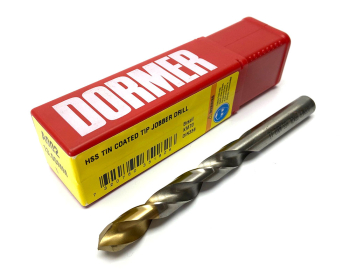 Dormer A002 TiN Coated Jobber Drill Bits


Dormer drill bits HSS Tin coated jobber drill for general machining applications up to x4 diameter.


Titanium Nitride tip coating (2mm and above) not only minimises wear and increases tool life, but also allows increased preformance.


These Dormer drill bits Feature self-centring split-point for excellent positional accuracy and hole quality.


Dormer A002 drill bits have Improved flute geometry for rapid chip evacution.


Manufactured to BS328/DIN338 standards.


We stock a large range of dormer drill bits and dormer drill bit sets, contact us if you can't find the right Dormer drill bit for your application.
There are no downloads for this product.